Amfora gives the farmers the respect they deserve by paying them a significant premium for their products and supporting their journey to become fully regenerative producers.
We know all our producers and carefully select new farmers that are closely aligned with our values. We foster long-term partnerships that enable farmers to grow and increase their production of high-quality, sustainable EVOO.
We started off working with farmers in Greece but are rapidly expanding our network of producers across the Mediterranean, adding producers in Turkey and Spain. Amfora aims to become the go-to platform for family-run producers and co-operatives throughout the region.
Eleni & Simeon Souridaki, Crete, Greece
Eleni and her son Simeon live in Kalamafka, the southern coast Crete. Their trees stand on well-drained terraces, fed by spring water. She treasures her trees, the inheritance she plans to pass to Simeon, an agronomist. She's independent and single minded; a strong woman in the largely male world of olive farming!
read more
Eleni is known in the area for innovative natural farming techniques. Instead of pesticide she uses mineral solutions to put off pests; she doesn't spray pesticide, or use any chemical fertilizer. She is careful with water in the summer; the olive fly prefers fat, wet fruit.
Eleni and Simeon make a flawless 100% koroneiki olive oil, incredibly consistent, balanced and floral, with low acidity and best in class polyphenols. More about Eleni & Simeon in our
Video
Zakros Co-operative, Crete, Greece
The far eastern end of Crete has a history of olive oil production going back 5,000 years. The Agricultural Cooperative of Zakros continues that tradition. The weather is hot, the soil is stony, forcing the trees to fight for water and producing good quality fruit resistant to pests.
read more
500 farmers make up the cooperative, agreeing to minimize fertilizer inputs and avoid pesticides and to pool their marketing activities. The milling facilities are state of the art. Together they make a classic koroneiki, low acidity, extra virgin olive oil, aromatic, balanced and with a wonderful buttery taste, that can be used for everything: sauces, frying, cooking as well as on salads and as a standalone apero, drizzled on bread. More about the Zakros co-operative in our
Video
Family Kontogiannis, Corinth, Greece
Theo and his family are pioneers in biodynamic, regenerative olive farming, with zero chemical use since 1999. Grazing sheep, mulch, and wine and olive residue from the mill provide the necessary natural fertilizer for their groves to flourish.
read more
Based in Corinth, the gateway to the Peloponnese, the Kontogiannis family cultivates various batches of small land in the area. Widely consulted by other farmers, they also make an excellent small batch organic white wine. Their olive oil is 100% manaki variety. Very balanced with fruitiness as well as wonderful grassy notes and just the right amount of spice, consistently high in polyphenols, it is our top of the range olive oil. More natural than this doesn't exist.
Metamorphosis, Laconia, Greece
The olive groves are scattered around the ruins of the ancient monastery of the Metamophosis. Where nuns used to supply the local population with oil and honey, history is omnipresent. Some of the trees that produce fruits till this day are dating back more than 1'000 years.
read more
The land is blessed with natural springs that provide enough irrigation for their plantation and neighbouring farms. Laconia - the land of ancient Spartans - is a protected geographical indication (PGI), a status that places high requirements on the way the olive oil is produced and stored. Metamorphosis consistently wins awards for their olive oil and its fruity and herbal flavour profile with low pungency make it a favourite. It's often the highest polyphenol levels in our range and is produced from a mix of koroneiki, the rare athinolea and the even rarer monasteraki olive varieties, the latter unique to Laconia.
Nombre Propio, Albacete, Spain
When Ramon Romero took over the farm a few years ago, much of the land was deserted. His vision was to create a unique olive oil from piqual and arbequina varietals and experiment to get the best olive oil possible. While many of Spain's farmers dug up their old trees to build high density automated plantations, Ramon went entirely the other way and returned to centuries old tradition.
read more
Produced to organic standard and fully regenerative, his vision has come to life! Nombre Propio is a family-owned project to build livelihoods in the region and protect the land and soil. No herbicides, synthetic fertilisers or pesticides are used. Grazing sheep do the weed control and provide the fertilizer. The result is a carbon-sequestering high polyphenol olive oil with spice, fruit and a wonderful mouthfeel.
We talk a lot about putting farmers at the heart of Amfora's mission. But what do the farmers actually think about working with us? Find out what they have to say about it and what this partnership means for them.

"Amfora has really helped me in every level, it helped me become a better farmer while I was trying to produce a better quality of olive oil, the price that you buy also helped to invest on equipment, it helped becoming "bio" when I could sell at a good price and avoid the three years that have to spend [getting certification] . . its honestly one of the reasons I'm still a farmer."
GIORGIOS PSIMIKOS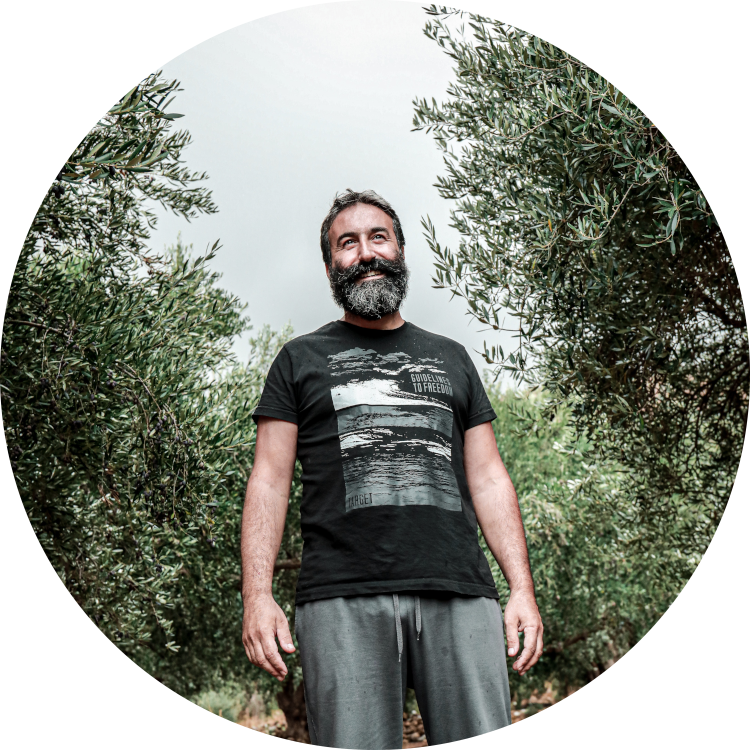 "The prices Amfora pays gives us small producers better prospects to make our olive oil. Sustainability is something we're interested in. . . We want to continue the production of quality product. I've made a lot of steps for the development of my fields."
MICHALIS MAVRAKIS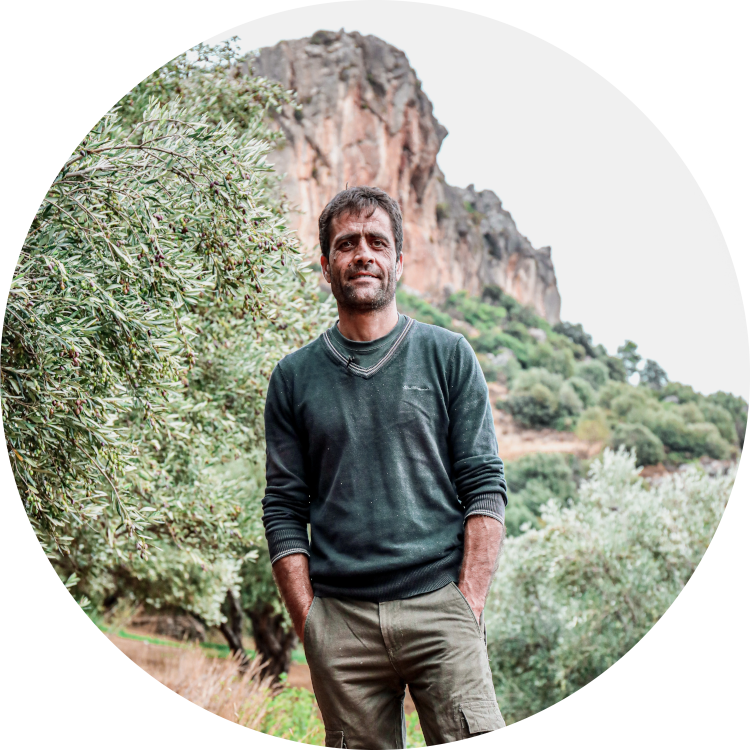 "Because of the higher prices compared with the home market, Amfora helped me to improve my cultivation. . . I have [added] unexploited fields and 150 new olive trees and want to expand further. I want to assure every customer . . . that my olive oil is rich in polyphenols and made with love and passion."
NIKOS DIOLETIS